A4900 Vibrio M
Vibration Meter, Analyzer and Data Collector in One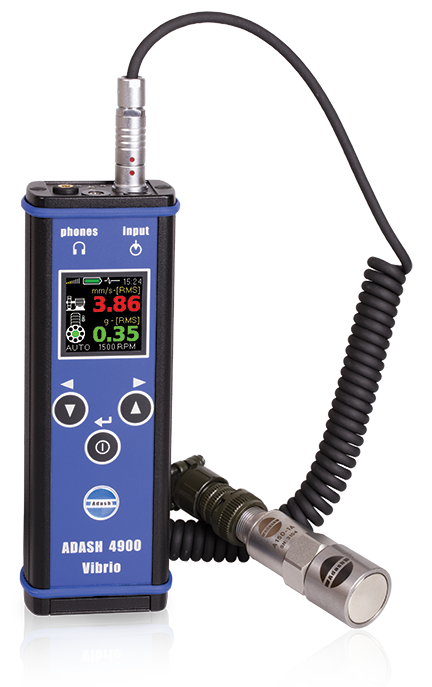 The A4900 Vibrio M device allows you to perform all basic vibro-diagnostics measurements for bearing condition, identification of mechanical faults and lubrication assessment.
The A4900 Vibrio M is equipped with 4MB of memory for data storage. Data memory allows you to store off-route and route measurements. The professional software DDS for Vibrio M can be downloaded from the Adash website free of charge.
Our expert system for automatic machine fault detection is included.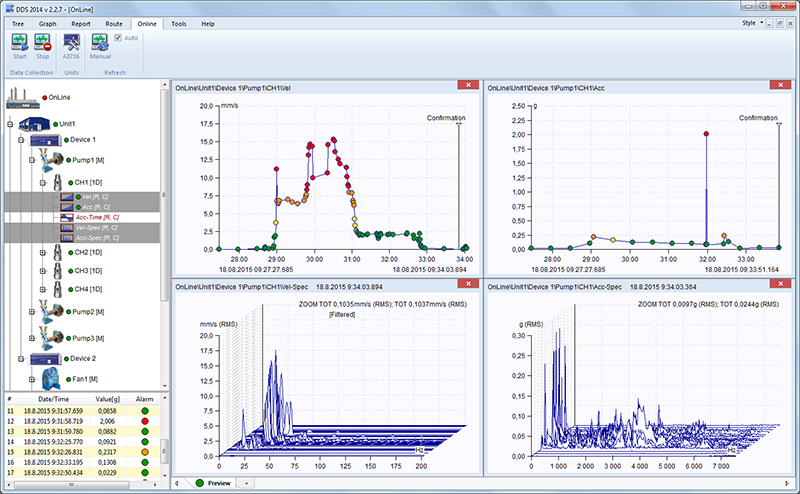 Free DDS software
(limited database size)
download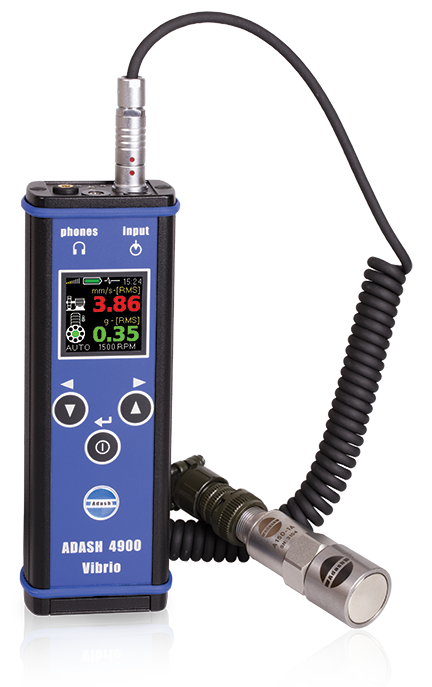 All basic vibrodiagnostics measurements: Overall values, Time signal, Frequency bands, FFT Spectrum, Route measurement
4 MB memory for data storage
Detects unbalance, looseness, misalignment or bearing faults
ISO 10816-3 included
8 hours of operation
LED stroboscope
Available also in intrinsically safe version A4900 Vibrio M Ex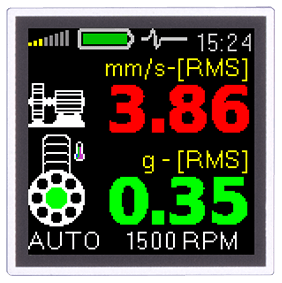 Overall values - rms
RMS vibration values:
10 - 1000 Hz in mm/s (ips)
0.5 - 16 kHz in g
Automatic speed detection
(the speed can also be set manually)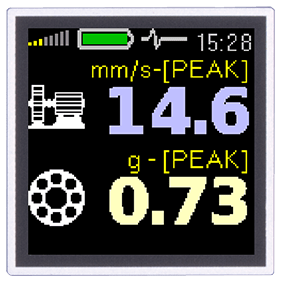 Overall values - peak
Peak vibration values (0-P):
10 - 1000 Hz in mm/s (ips)
0.5 - 16 kHz in g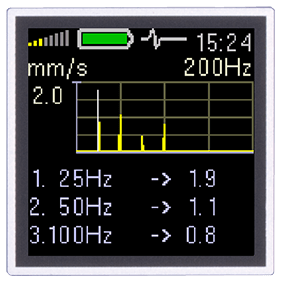 Spectrum
FFT analysis of vibrations:
1 - 200 Hz in m/s (ips) RMS
Displays the 3 maximum peaks found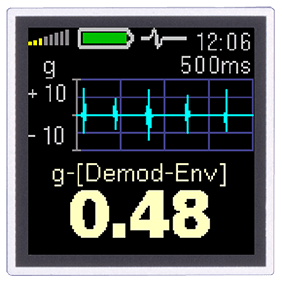 Time signal
Time signal:
0.5 - 16 kHz in g
Demod-Envelope value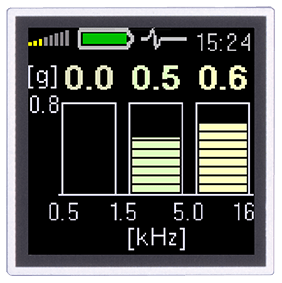 Frequency Bands
RMS vibration values:
0.5 - 1.5 kHz in g
1.5 - 5 kHz in g
5 - 16 kHz in g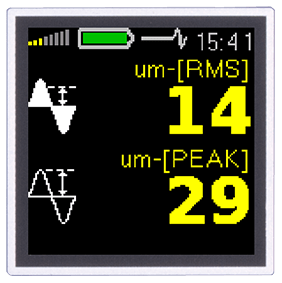 Displacement
Overall RMS and Peak displacement:
2 - 100 Hz in μm (mils)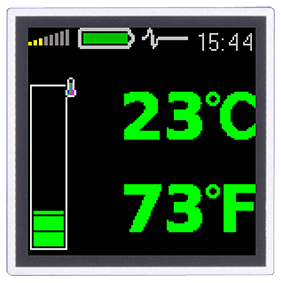 Temperature
Temperature in degrees Celsius and Fahrenheit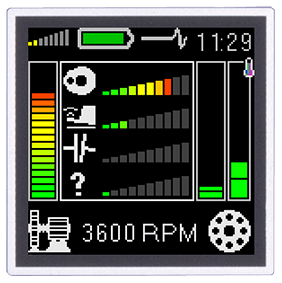 FASIT (Fault Source Identification Tool)
Temperature
Unbalance
Looseness
Misalignment
Bearing condition
Overall machine condition
Input:

1 x ICP® powered accelerometer
Input range:

60 g PEAK with standard 100 mV/g sensor
e.g. 600 g PEAK with 10 mV/g sensor (sensitivity is adjustable in the device)
Measurements:

Velocity RMS: 10 - 1 000 Hz [mm/s, ips]
Velocity Peak: 10 - 1 000 Hz [mm/s, ips]
Acceleration RMS: 500 - 16 000 Hz [g]
Acceleration Peak: 500 - 16 000 Hz [g]
Velocity time: 1 - 1 000 Hz [mm/s, ips], 2048 samples
Velocity spectrum: 1 - 1 000 Hz [mm/s, ips], 800 lines
Acceleration time: 1 - 16 000 Hz [g], 2048 samples*
Acceleration spectrum: 1 - 16 000 Hz [g], 800 lines*
Acceleration Demod-Envelope RMS: 500 - 16 000 Hz [g]
Acceleration Demod-Envelope Peak: 500 - 16 000 Hz [g]*
Acceleration Demod-Envelope time: 500 - 16 000 Hz [g], 2048 samples
Acceleration Demod-Envelope spectrum: 500 - 16 000 Hz [g], 800 lines, range 400 Hz*
Displacement RMS: 2 - 100 Hz [µm, mil]
Displacement 0-Peak: 2 - 100 Hz [µm, mil]
Displacement Peak-Peak: 2 - 100 Hz [µm, mil]



* available in DDS software for Vibrio
IR temperature measurement:

From -70˚C to +380˚C (-94˚F to +716˚F)
Other functions:

LED stroboscope (0.17-300 Hz, 10 - 18 000 RPM)
LED torch
Vibration stethoscope
Memory:

4 MB for data:
120960 overall values
or 900 measurements of 800 line spectra
or 2048 sample time signals
Data storing:

Off-Route
Route with DDS software (free download)
Interface:

USB 3.0, 2.0 compatible
Software:

Free version of DDS software (limited database size)
Display:

Colour graphic OLED display 128x128 pixels, diagonal 1.5" (38 mm)
Output:

1 x AC signal 8 Ω / 0,5 W for external headphones (signal listening)
Power:

2 x AA 1.5V batteries (alkaline, NiMH, Lithium - 8 hours of operation)
Temperature:

Operating: -5°C to 55°C
Dimensions:

150 x 60 x 35 mm
Weight:

330 g including batteries (without cable, sensor and magnet)
540 g including batteries, cable, sensor and magnet
Accessories:

vibration sensor, coiled cable to connect vibration sensor, magnetic base for vibration sensor, headphones with 3.5 mm jack, USB cable, measuring tip for manual pressure on the sensor, transport case, USB flash drive with the manual