A4410 Virtual Unit
VA4 Pro II Software Environment Emulator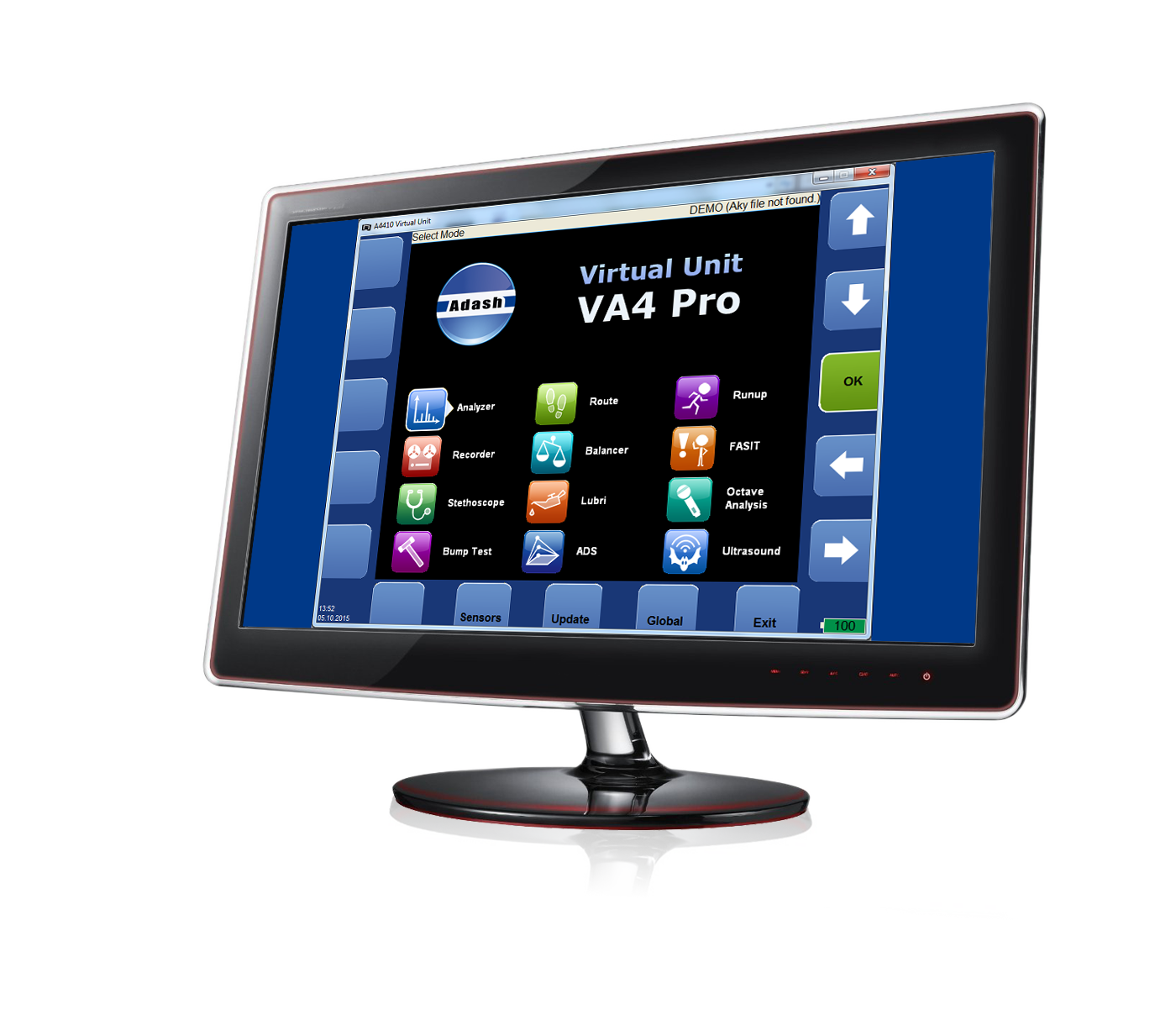 The A4410 Virtual Unit has two types of usage.
First one is to run it in a Demo mode and see the VA4 Pro II vibration analyzer working environment. In other words, you can download and install the Virtual Unit free of charge and see all the measurement capabilities of the VA4 Pro vibration analyzer.
Second use is to setup and control the A4404 SAB pocked size vibration analyzer. A4410 Virtual unit is the same software used in VA4 Pro II vibration analyzer. Therefore install the Virtual Unit, connect A4404 SAB to your computer and you can perform all measurement capabilities which are possible in the VA4 Pro II vibration analyzer.
Free Virtual Unit software

download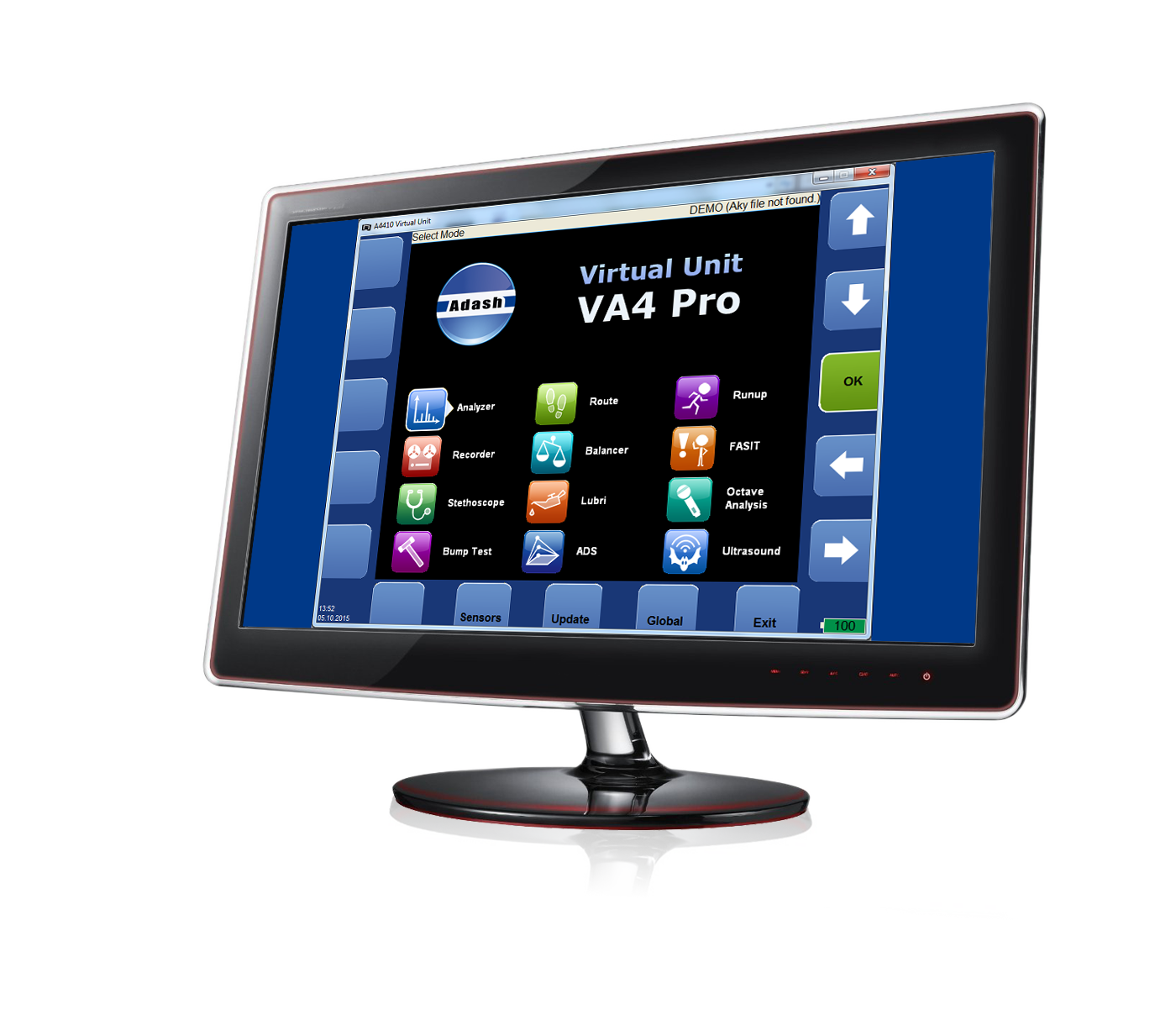 Possibility to discover A4400 VA4 Pro II vibration analyzer capabilities before purchase
Free download
Setup and control of the A4404 SAB measurements
The Virtual Unit gives you unique opportunity to find out what the A4400 VA4Pro II and A4404 SAB vibration analyzers are able to measure. It could be a huge decision maker for you before the purchase of one of mentioned vibration analyzers. Just give it a few minutes to explore it.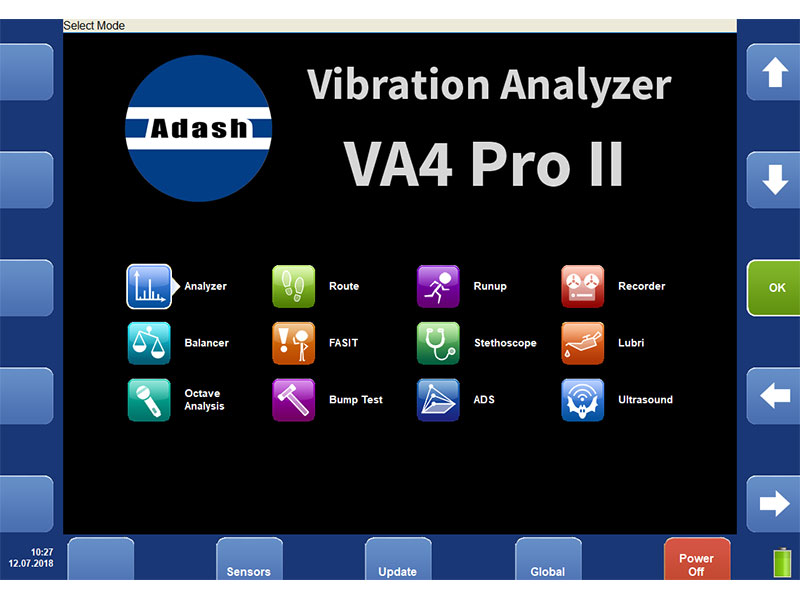 MAIN MENU - Measuring modules
Analyzer
Route
Run Up
Recorder
Balancer
FASIT (Expert System)
Stethoscope
Lubri
Octave Analysis
Bump Test
ADS (Operating Deflection Shapes)
Ultrasound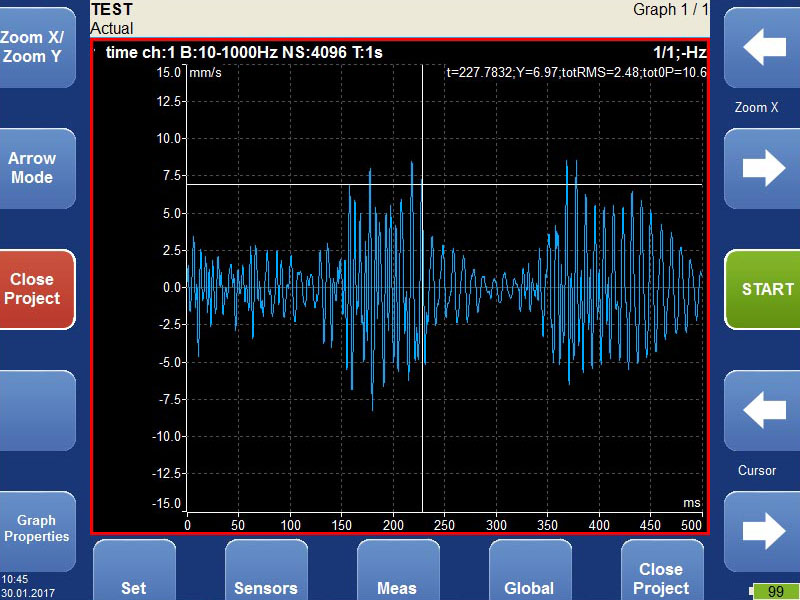 Analyzer
Select the type of the measurement (from simple overall values through FFTs and time signals to more advanced measurements with Proximity probes such as Orbits), set up the measurement settings according to your requirements (frequency range, sampling, units etc.) and take all the predefined measurements simultaneously.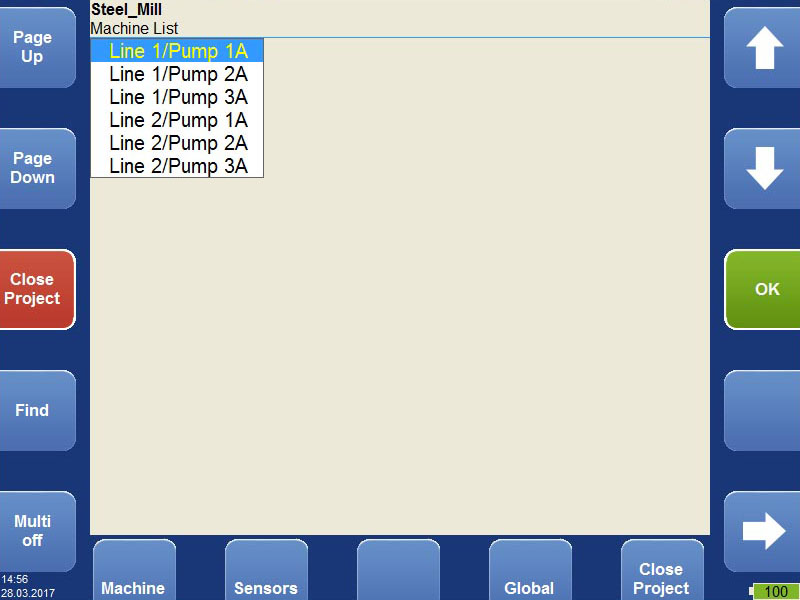 Route
Route module is used for day to day data collection of your factory machinery. Simply create your route tree with measurement points location in DDS software and take the measurements regularly. Transfer collected data to DDS software to watch the trends and analyze the data.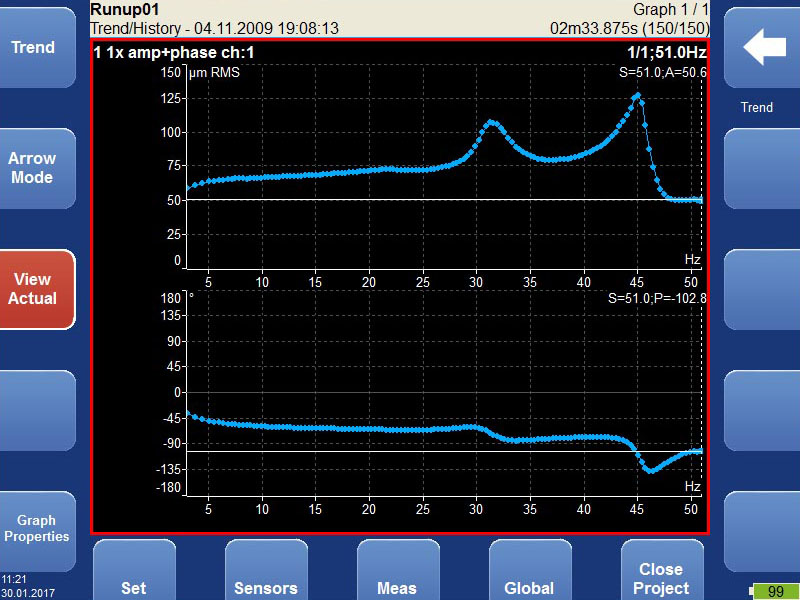 Run Up
Similar to Analyzer mode where you can setup any measurement which you like. RunUp allows you to control the saving of data for example as soon as possible, or by speed change, time change etc.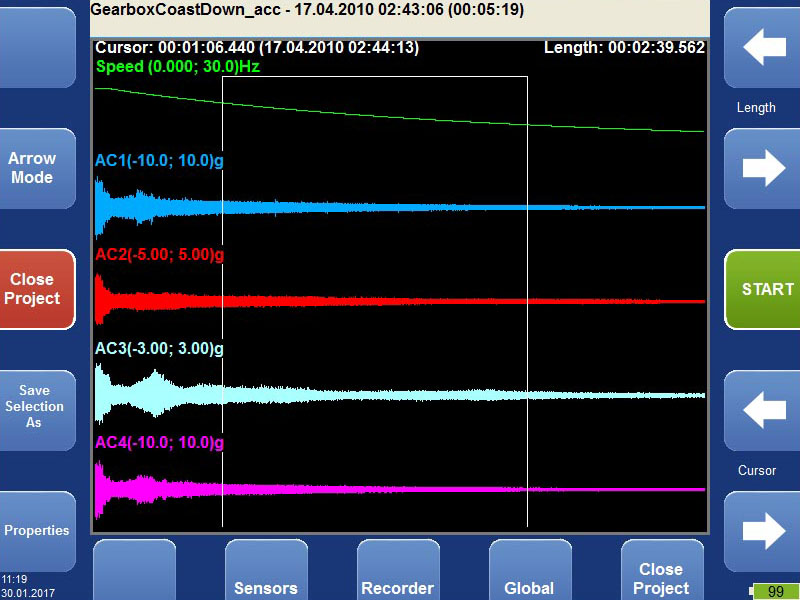 Recorder
Unique measurement mode with unappreciated value. Recorder "records" the raw signal from the sensor, means raw signal from the machine. This allows to make a post processing of the signal later on your PC. You can play this record again and again and apply any measurement setting to it.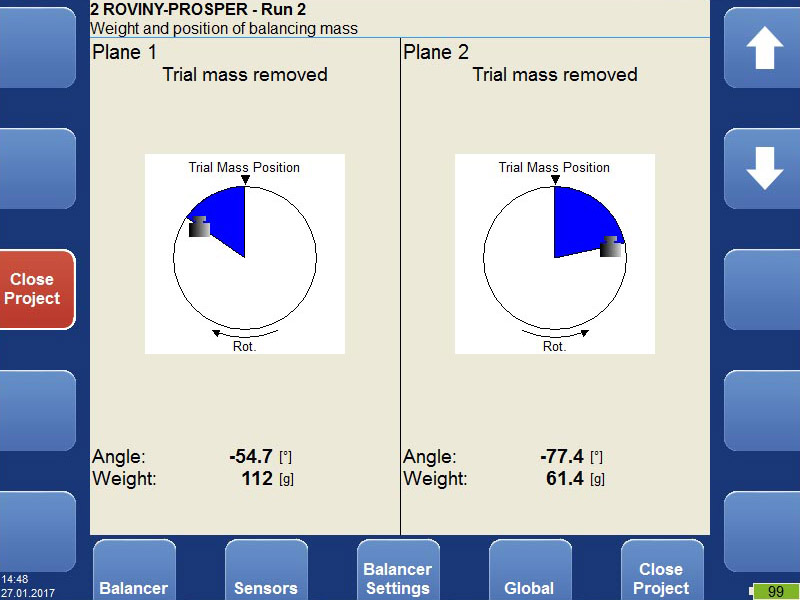 BALANCER
Balancer allows you to perform one or two plane balancing job of rotating parts such as industrial fans, blowers, spindles etc.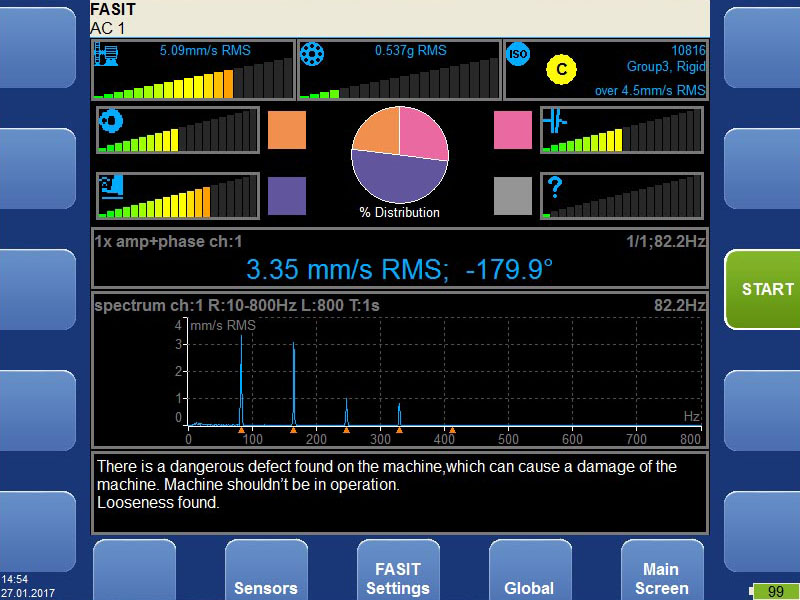 FASIT - Expert system
FASIT (Fault Source Identification Tool) is an expert system for automatic detection of possible machine faults:
- Unbalance
- Misalignment
- Looseness
- Bearing faults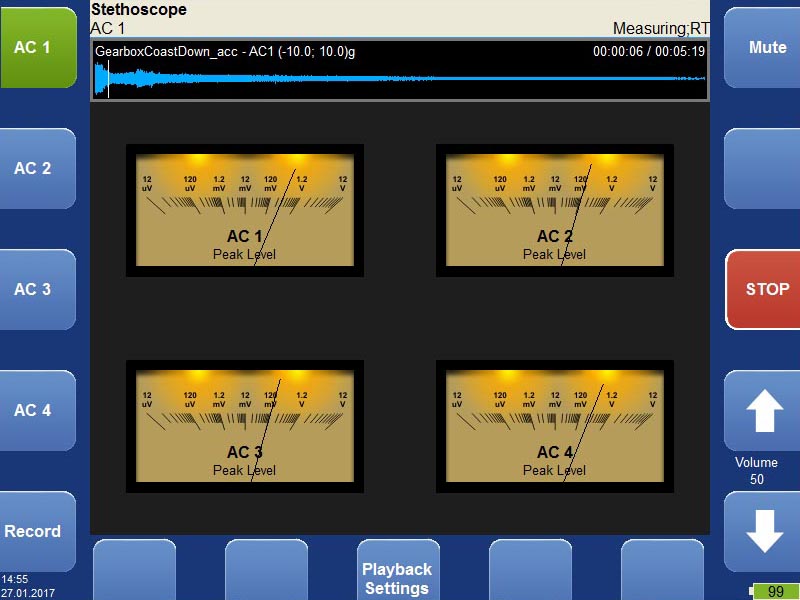 Stethoscope
Do not use a screw driver to listen your bearing noise anymore. Place the sensor on the bearing house and listen the machine / bearing noise in headphones. VA4 Pro enables to listen signals from 4 channels. Just switch between individual channels. Adjust the volume according to your needs.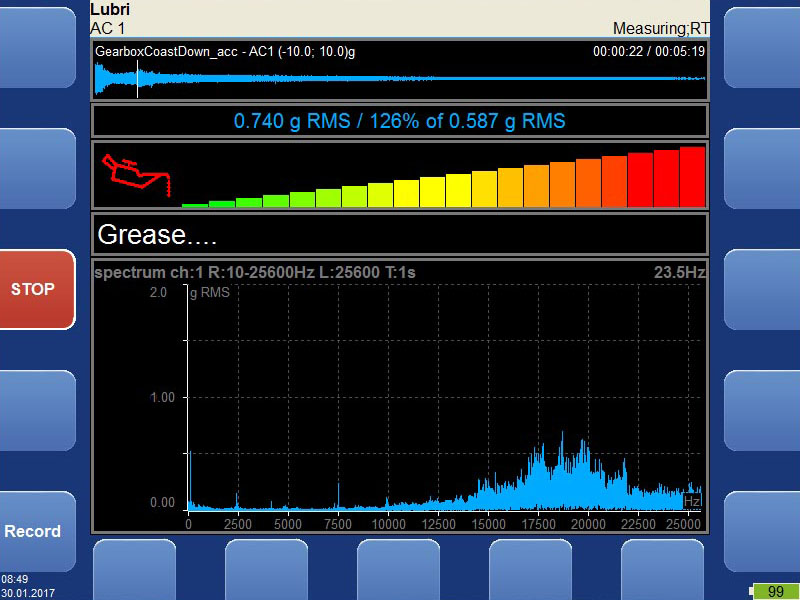 Lubri
Lubri is a maintenance tool used for monitoring and control of the lubrication process. Lubri measures the actual bearing lubrication status and informs the operator when the lubrication state is optimal.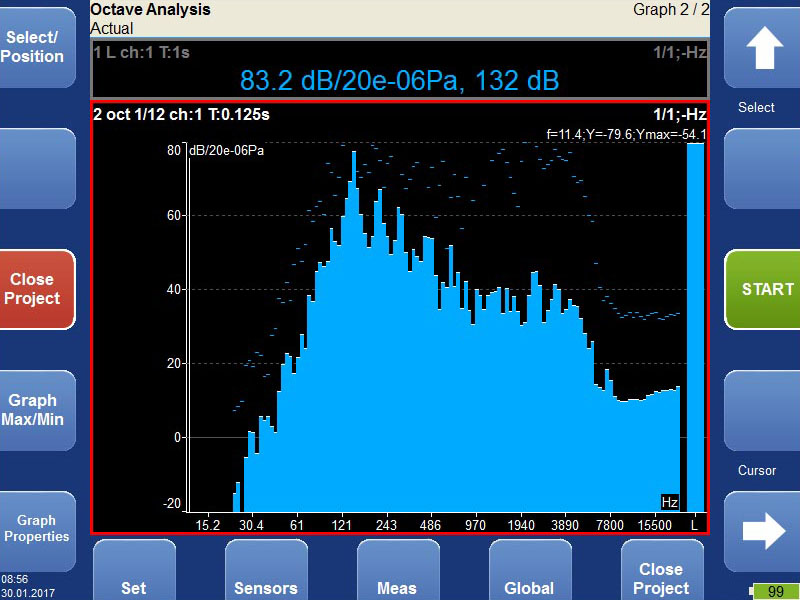 Octave analysis
Octave analysis allows you to measure hearable sound. Connect your ICP microphone and measure sound level and Octave spectrum with selectable 1/1, 1/3, 1/12, 1/24 resolution.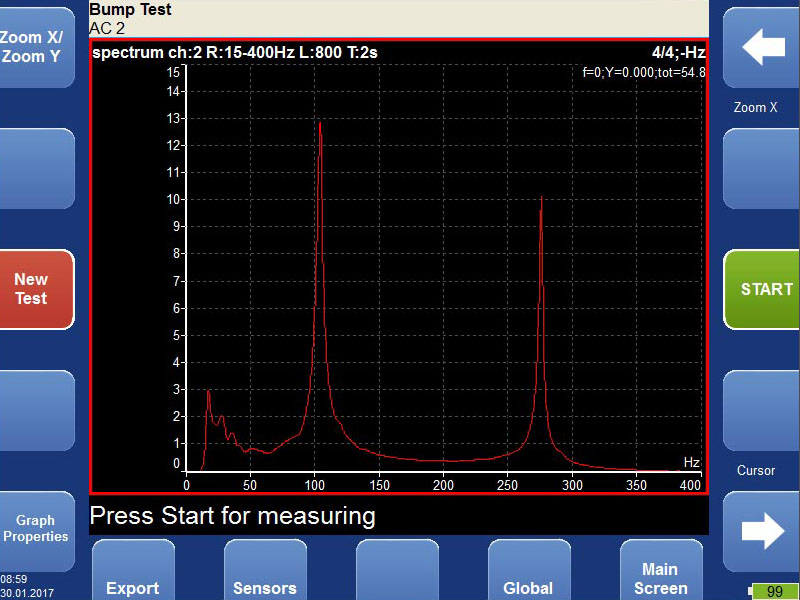 BUMP test
Easy way how to measure structure resonance frequencies. No need of any settings, just place the sensor on the structure and hit it with appropriate hammer.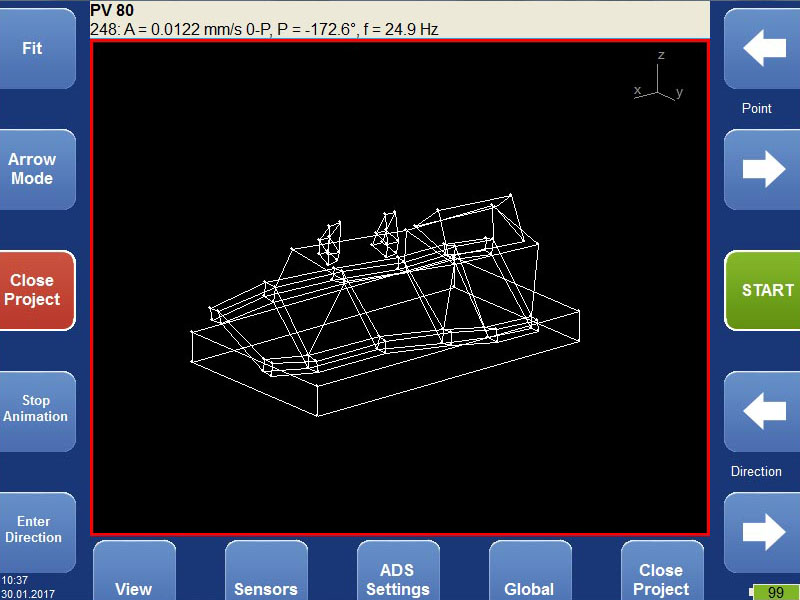 ADS
ADS - Animated deflection shapes software is based on the method of operating deflection shapes. This means we visualize the vibrations of certain machine by animation. During the animation the vibration movement is slowed down to very low frequency and the amplitude of the motion is increased so we can see the vibration. You can animate the machine motion directly on the VA4 Pro device!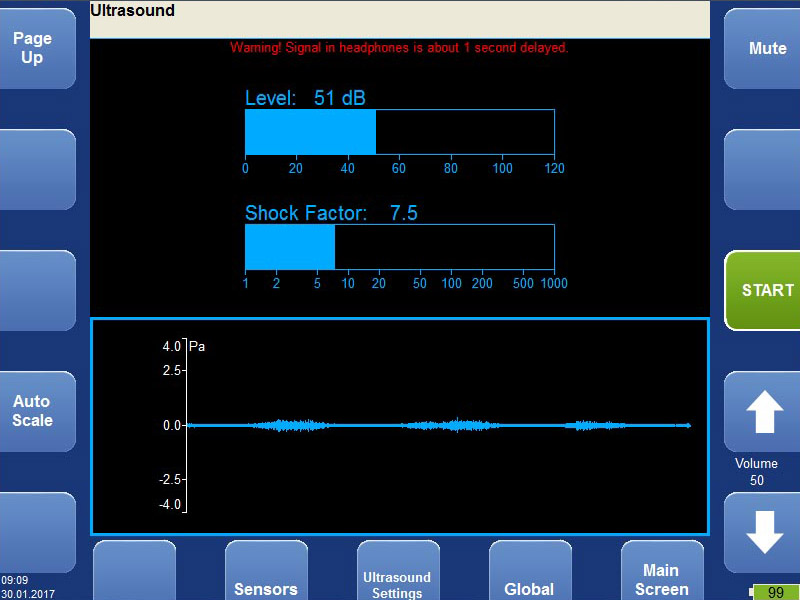 Ultrasound
Measurement of sound unhearable for human ear – ultrasound. Typical application is air leak detection, electrical arcing or early bearing fault detection.